Open to the Public: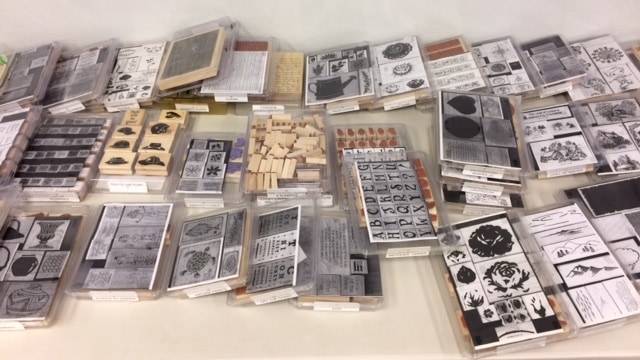 9 AM-Noon, Saturday, Nov. 17, Upstairs in room #203
Are you a crafter/stamper???  Whether you are a beginner, wanting to dip your toes into the world of rubber stamping…or an experienced stamper, always looking to expand your "library" of stamps — THIS sale is for YOU! 
Our Missions Committee received a very generous donation of LOTS of rubber stamps — over 500 "SETS" (a "set" consists of either a single large background stamp, a designed set, or a group of stamps with a related theme), as well as assorted supplies.  Most of these are sets from a well-known stamping company, and some of them have never been used!  All proceeds will benefit our Missions Fund.
Invite your stamping friends to check us out!  Support our Missions Fund, and take home some GREAT BARGAINS!!!
Here's a sampling of what we have:
Stamps, stamps, stamps — NINE tables of them: floral, landscape, people, sayings, letter sets, sports, holidays, patriotic, new baby, children playing — you name it…it's probably here…somewhere!  (Some of the stamps are clear, but most are on wood blocks.)
Stamp "Wheels" — roll a continuous stamped border (some ink cartridges available)
Cardstock packages — packages of 20-24 sheets of 12×12 cardstock (assorted or single color)
Open Stock Paper — individual sheets of cardstock solids and printed paper
Ribbon and more ribbon — displayed in 16 DRAWERS (drawers NOT included) — all kinds & colors (mostly narrow)
Sizzix shape-cutting dies — small selection of dies only, not the machine
Sorry, no ink pads offered in this sale.
If you have questions, email the Church Office. We are closed on Friday, but I will check messages throughout the day.  Please do not try to call or email the church with questions on Saturday morning as the office is closed that day.