Thirteen of our youth (8 girls & 5 boys) and 7 adult chaperones will be participating in our 3rd Annual Youth Hike!  They will enjoy the beauty of God's creation as they challenge themselves with a vigorous overnight hike!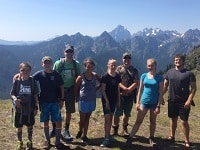 Who:  This event is for all Student Ministry students, including current 5th graders who are entering SMT this summer/fall.
Where:  Silver Lake

in the

Buckhorn Wilderness

, near

Mt. Townsend

How much:  No cost (the SMT budget normally pays for this). Students will need spending money for eating out on the way home.

When: 

June 28th-30th — we will leave right after Sunday service and be home mid-afternoon on Tuesday.
What to bring:  Students will need a variety of things for the hike, including a backpack and bedding.
PARENTS:  If your student needs some items, we may be able to find extras to borrow from people in the church. Contact Todd Mills or Scott LaMar ASAP if you need items for the hike (call the Church Office if you need their numbers).