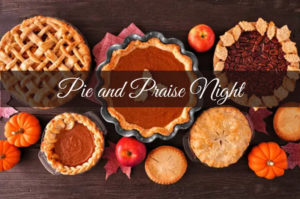 You are invited to join us for a "Pie and Praise Night" to be uplifted and encouraged!
On on Tuesday November 22nd from 6 to 8 PM, we will be praising, worshiping and testifying to God's goodness, followed by eating pie and warm fellowship!
We will meet in the sanctuary for worship first, then move to the lobby to eat.  Bring a pie to share, homemade or store bought, and drop off at the kitchen prior to the service.
All are welcome!
Any questions, text or call Amy Christensen